When Lyla got too heavy for the Baby Bjorn, we bought an Ergo. We literally bought it on the way to an event at which I'd be wearing her for nearly two hours. So in the car on the way there, I skimmed the directions, looked at the pictures, and thought,
Yeah, I can figure this out.
I had read quite a bit about the different carriers out there, and in doing so, read that the folks at Ergo assert that babies should never be forward-facing while you wear them in the front - that, among other things, they like to look at your face, check back to your facial expressions to assess new situations, and just look lovingly into your eyes.
Well, Lyla grew up the first several months of her life forward-facing on my front (except for the very first few weeks when she was just a teeny blob of newborn). So throwing her in the Ergo and forcing her to look at me, and not the world, is not much to her liking. She is constantly twisting her head around Exorcist-style to see what's going on in front of her. Namely, what Gracie's doing.
For a while, she also threw her entire body backward and would have completely flopped out if I hadn't been holding on. I realized a few weeks ago that I hadn't been putting her arms in the right spot (remember, I didn't read the directions completely... almost at all).
Needless to say, I don't love our carrier situation. I still use it constantly because with a toddler, I need to be hands-free (or hands-sometimes-available) a lot of time when we're out and about. *Note, I am not the kind of supreme baby-wearing advocate who wears my little ones around the house. I prefer them to be on the floor playing and learning to move. There's obviously no right or wrong way, that's just the route I'm most comfortable taking.
Anyway, at the end of last week, we had a break in the rain, and I knew I had to get the girls outside. I was avoiding it because I didn't feel like putting Lyla in the Ergo at the moment. I just feel too bad that she's stuck staring at me when she clearly wants to check everything and everyone else out instead.
Then it hit me.
DUH!
The stroller.
Gracie
lived
in the stroller when she was this age. I completely forgot about it. I mean, the double stroller has been sitting in our driveway for months and the single stroller is parked in the garage about 3 feet from the van I get into and out of several times a day, but my vision was blocked by my lack of brain cells, apparently.
So I immediately got the girls dressed and ran out the door.
We strapped Gracie's glowworm into her baby stroller for her to take on the walk with us; I didn't know if she was going to feel abandoned by the plan to eschew the double stroller for the old single. I also wasn't sure how Lyla was going to feel about riding in the stroller. Sure, she doesn't exactly love staring at me from six inches away in the Ergo, but being a whole stroller-length away and facing outward again might be too much?
Nope! She L.O.V.E.D. it!
She giggled and squealed watching Gracie run around the neighborhood the whole time we were out.
As for Gracie wanting to ride in the double stroller, she never uttered a word about it. She loved having her own baby and stroller to walk with me, and every few minutes, she'd ditch her baby and run over to Lyla to make sure she was having a good time.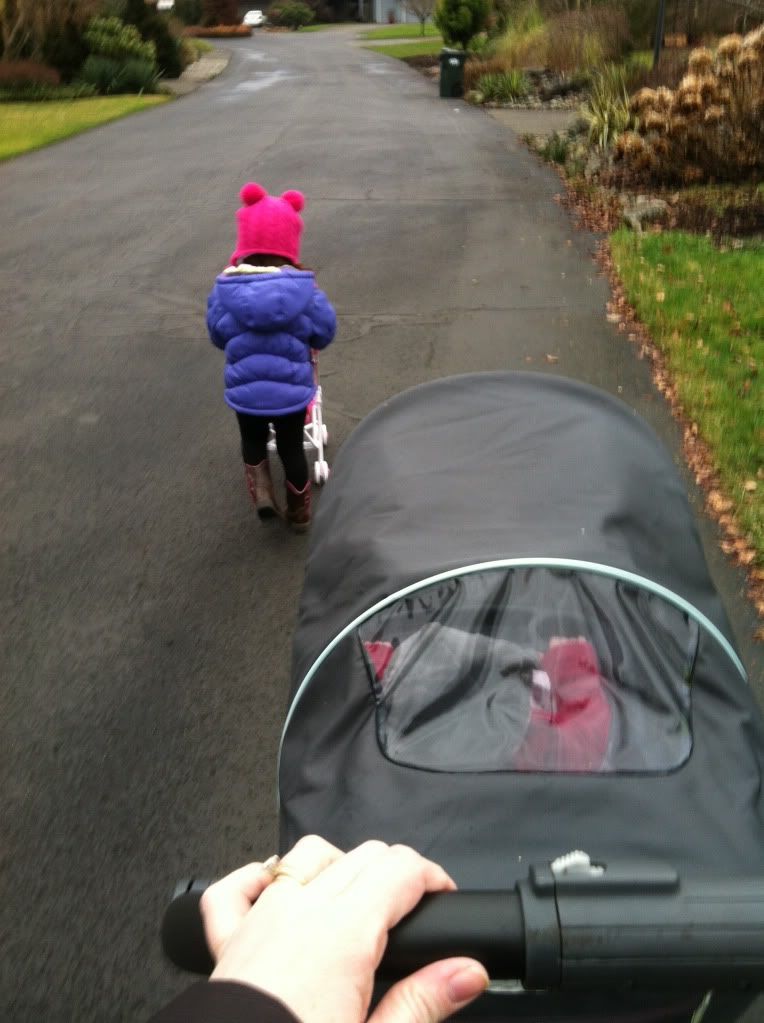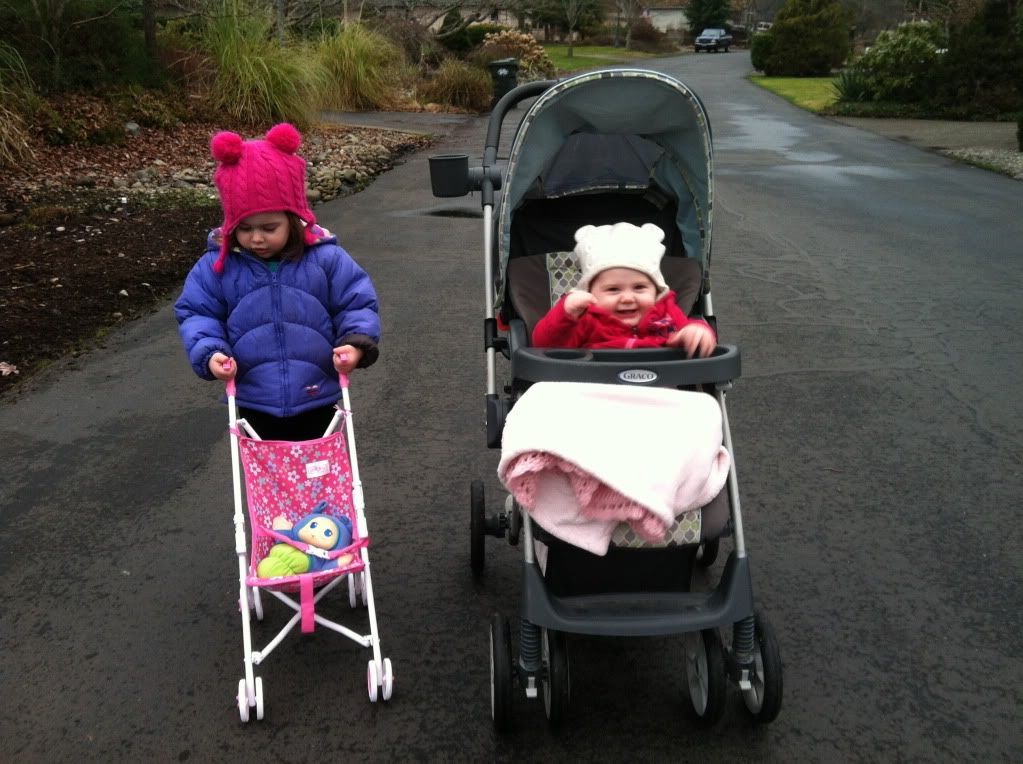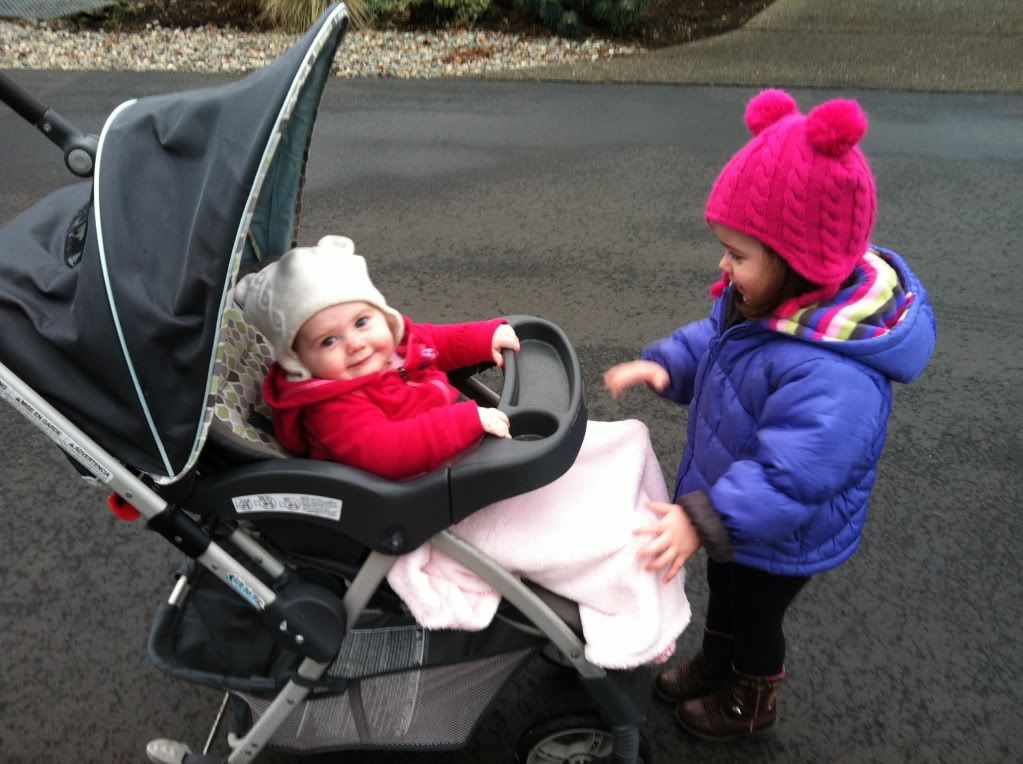 OK, Gracie loved playing mommy/baby until... well, she didn't anymore. We go to the spot in the neighborhood with all the rocks, and she spent a few minutes throwing them at trees while I yelled at her to stop. Then, it was like the tomboy in her squeaked out with the rock throwing and couldn't be put back in to save little Glowworm's life. When I told her not to forget her baby where she abandoned him for rock throwing, she ran over, grabbed him and the stroller, and spent the next few minutes acting out a mini-stroller version of a monster truck rally. She kept ramming me and Lyla with her stroller and trying to "forget" it in the middle of the road right where we were walking hoping I wouldn't see it and run over it.
After a few minutes of this, she got bored with the stroller altogether and tried to leave it in the neighbor's grass. Thinking back to the time I bent all the way over and pushed that stroller halfway across the neighborhood before coming to my senses and realizing I could just pick it up and carry it, I immediately hooked the little stroller onto the handle of the big one and pushed them both back home.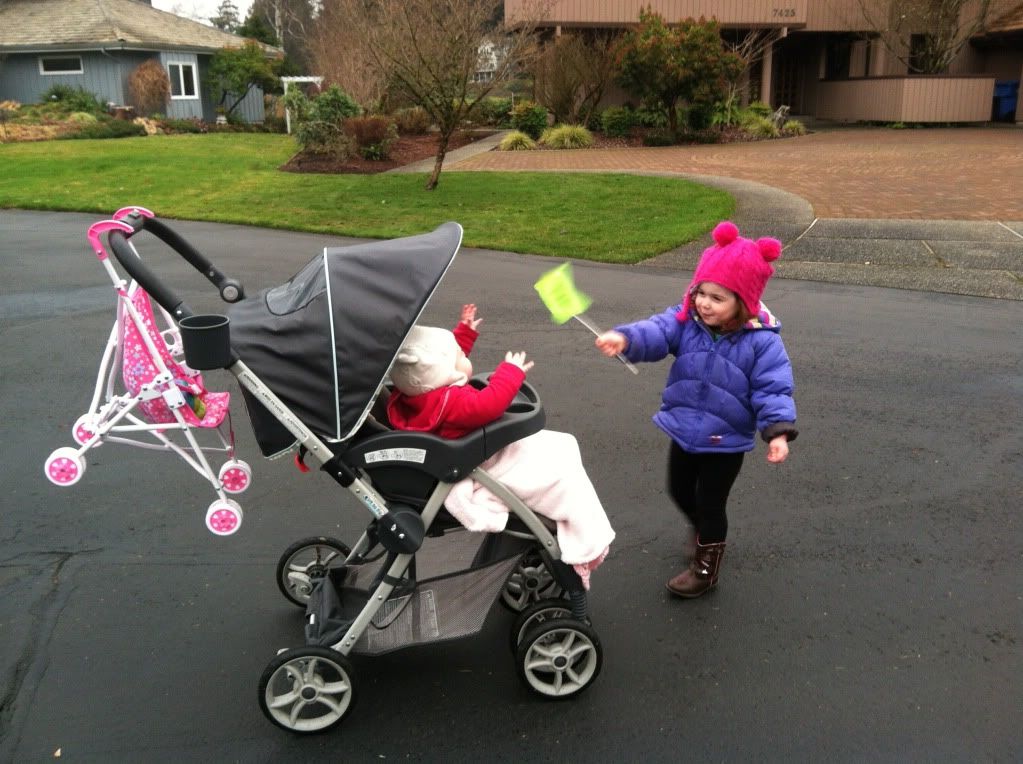 I'm writing about my experience with the Ergo not to embarrass myself to you guys, but so that whenever I'm in this
I hate wearing my giant baby inward-facing but have to keep them close. What am I ever going to do?
phase with our next baby, I can read back to this time in Lyla's life and remember
YES! There's a handy little contraption for this very issue: the stroller!